August 24, 2020
7 Tips to Follow as You Reboot Internal Communications Through COVID-19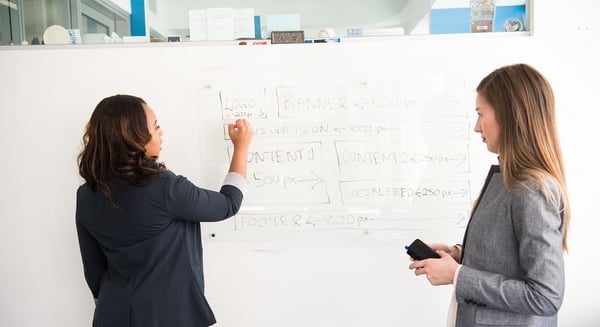 Last week we conducted a series of webinars for communicators, focusing on a model we recommend to reboot internal communications through crisis for greater effectiveness long-term, called the 3Rs: Reflect, Reimagine, Reboot.
The sessions brought about fruitful discussion, sharing of best practices and challenges from attendees that allowed us all to engage in a dialogue about how best to approach what's next.
In most cases, the pandemic forced us to go back to the fundamentals – and the lessons we learned (and continue to learn) should remind us of what's important and the things we don't want to lose.
We've found there are a number of tips and reminders that became so self-evident in the pandemic as things we should remember as leaders and communicators and we want to share those with you.
Here are 7 tips to keep in mind as you lead, communicate and reboot Internal Communications through COVID-19:
1. Continue to listen for what employees need and want.
Always build communications with your audience and their communication needs in mind. Sometimes we spend 80% of our time crafting a message and almost no time listening to our audience. Often when given the chance, employees are happy to share what they need, what's working and what could be better. Think about an opportunity or two where you could do more audience listening, whether it's a brief survey or a set of focus groups, to really gauge how your communications are resonating.
2. Use this moment to get feedback from senior leadership and gain a deeper understanding of their goals and priorities.
The pandemic shifted everyone's priorities – but it also demonstrated the value of clear priorities to move everyone. Take advantage of this time to partner with senior leaders and align priorities that you can amplify to employees.
3. Authenticity matters more than ever – keep it real and say it in plain language.
This time has been a great equalizer as at no time in any of our lifetimes were all people affected by the same external challenge. When the pandemic hit and as organizations felt immediate impact, we didn't have time to massage messages or try to create specific perceptions – we just had to be ourselves. And as a result, many organizations have seen the positive impact that's had, in terms of connection and engagement.
With the amount of and pace of change these past several months, we're finding people have no tolerance for the stuff that doesn't matter or for corporate jargon. Continue to keep it real and be yourself and help your leaders do the same.
4. Don't duck the tough subjects – find ways to facilitate respectful conversations.
Trust is built through transparency and people are looking for answers now, probably more than ever before. The challenge is we don't have all the answers – but that's all the more reason to engage with your teams. In absence of solutions, leaders can maintain respect and offer empathy and support, which they'll find returned in kind.

The truth is, we're all figuring this out together, so remember that your colleagues are looking for your input, support and information when you do have it, not all the answers.
5. Remember that times of crisis are times of opportunity – be bold and think big!
If there's ever been a time to ask "why not?" it's now! With crisis comes opportunity, and we've seen huge ideas with daunting change implications happening at a rapid pace because it was needed.
For example, companies who are thinking big are opening new doors to work arrangements and collaboration that has unleashed their productivity as well as unleashed new avenues for creativity and savings. These moments don't come around often, so use it to the company's advantage.
6. As you reflect, reimagine and reboot your internal communications plan through the pandemic, keep in mind that this year will have changed people in lasting ways.
The pandemic is a watershed event and we'll never view this kind of crisis the same way again. People will be changed because their perspectives on work and life have ultimately changed.
Think of the myths that have been busted, such as:
Sales MUST be conducted in person
We can't be productive virtually and managers need to be physically present
We have to have meetings in person to be effective
And many more
People will be more open than they ever have been to try new things…because they've seen them work. Not only that, people will expect organizations to have the same learnings and not try to return to the past without implementing some of the positive learnings that rose to the top during the crises of this year. If we don't match the new expectations of employees we, we risk becoming outdated, losing talent and diversity if we stay tied to the old paradigm.
7. Don't go it alone – work your network and get outside help for ideas and learning.
If the pandemic reminded us of nothing else, it's that we all depend on each other, even when we're far apart. No one has to make the path forward decisions alone. Seek out partners in your organization to join you in reflecting, reimagining and rebooting your approach to communications. Chances are, your colleagues will be excited about building a new normal with you.
Also, reach out to experts outside of your organization for ideas and partnership. No one has this entirely figured out, and leveraging the experience of others is one way to bring even more great minds to bear for your organization.
What one tip, if you focused on today, could make your efforts to reboot internal communications even stronger?
—David Grossman
---
Ensure your approach to communications fits the needs of employees and your organization today with help from the Reflect, Reimagine & Reboot Your Internal Communications Plan Through the Pandemic eBook. Click the image below to get your free copy.