June 28, 2021
Get a Sneak Peek of My New Book - Heart First: Lasting Leader Lessons from a Year that Changed Everything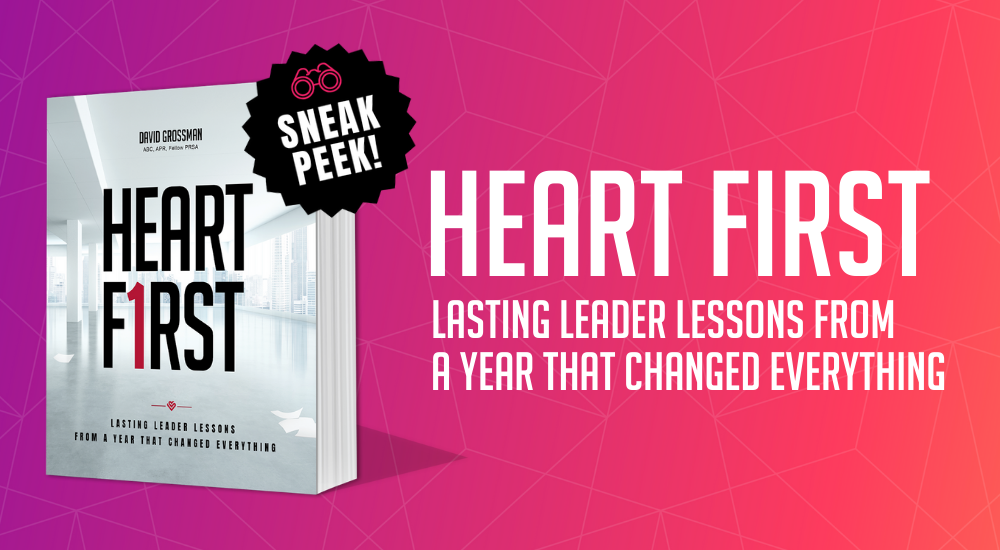 What an unforgettable time we are living in today. With the pandemic and social unrest that we confronted over the past year, 2020 changed us in enduring ways. As we see from our remote and hybrid work, reduced travel, abundance of video meetings, and new awakenings on equity and inclusion in the workforce, it's clear that the way we work and lead will never be quite the same.
The Incredible Lessons We've Learned
I started out in 2020 wanting to explore the concept of leading through change with a new book. In more than three decades working with leaders across industries, I've seen a lot of what works, and what doesn't, and I wanted to share those findings to help others.
And then the global pandemic happened, followed by social unrest that forced a reckoning for business leaders and employees across this country. This was the biggest level of change any of us had experienced in decades. The layers of change felt endless.
I decided at that point to invite a select group of leaders to sit down and talk about the change they were experiencing and the insights they were picking up as they went along. The results of those interviews – along with other lessons I've learned from advising leaders and communicators across a wide variety of organizations – resulted in the leadership book I'm preparing to release this summer, Heart First: Lasting Leader Lessons from a Year that Changed Everything.
Take a Look Inside Heart First
I'm excited to publish this book, so much so that I didn't want to wait until it actually comes out to share some of what's inside. To view some of the insights from leaders I interviewed – and see more of what I believe truly makes for great leadership – download a sneak peek preview of Heart First (and enter to win free copies for your team).
One thing I hope you see right away is that this book is far from a traditional business book. Leaders were remarkably candid in sharing what it felt like during some of the darkest moments of the pandemic crisis, as well as what it was like to begin raw discussions about racial diversity and inclusion in the aftermath of the George Floyd murder.
Heart First Benefits Leaders at all Levels
All leaders, no matter their experience, will find wisdom and guidance from the extraordinary insights leaders shared in this book, and can turn to Heart First regularly as an essential playbook for navigating crisis and change, not just in this moment but in any period of change or challenge they face in the future.
In essence, that's what my new book is all about – applying critical lessons learned to provide clear direction on how to be the very best leader and communicator you can possibly be. After all, let's face it: It's relatively easy to lead when times are good. It takes a lot more courage, grit and heart to lead during tough times. I'm convinced that a big part of that is leading with the Heart First.
I hope you'll check out the excerpts from the book, and I'm excited to hear from you about the many important leadership insights we share within it. My hope is to provide a great new resource for anyone striving to meet the incredible moment we're living in today.
—David Grossman
---
Take an exclusive look inside Heart First – and be entered to win free copies for your team – by downloading a preview excerpt today.