May 27, 2020
New eBook: 12 Tips for Employers to Navigate the Future World of Work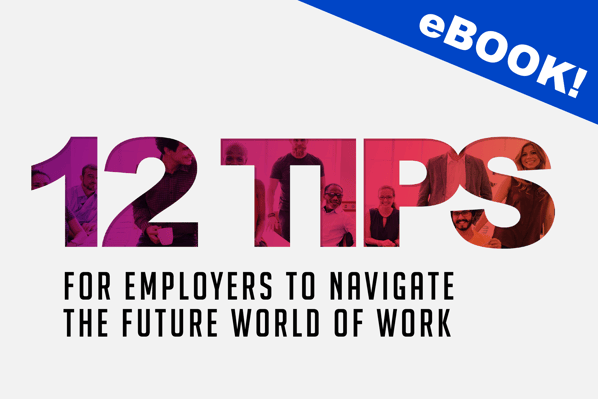 With thousands of employees shifting to working from home overnight and other on-site workers dealing with new health and safety concerns amid the COVID-19 pandemic, today's employers face a range of pressing questions about the future world of work.
Even in just two months, our team at The Grossman Group has learned a lot by listening to leaders and employers, surveying employees and conducting focus groups to really understand how various audiences are thinking about the workplace going forward. And of course, we know from years of experience helping companies manage a crisis what works best to set organizations up for long-term success. Naturally, a lot of the best practices come down to more strategic communication, planning and better employee listening. Yet there are many other smart practices to apply as well.
To share our insights and some of the best strategies we've seen, The Grossman Group has released a new eBook, 12 Tips for Employers to Navigate the Future World of Work.
A Key Resource for Employers Seeking Best Practices
The eBook includes, not only our top 12 tips, but case studies of companies successfully managing COVID-19 and other business challenges. And it includes overall strategies for motivating and engaging employees through a dramatically changing work environment.
One of the biggest questions for employers is how and where their teams will work, not just through COVID-19, but long after the pandemic subsides. According to a recent survey we conducted of 841 U.S. employees, nearly half of employees currently working from home want to keep that arrangement. If those employees get their wish, the workplace would be permanently transformed. Prior to COVID-19, only 7 percent of U.S. private sector workers had access to a "flexible workplace" benefit, or telework, according to a prominent study of the U.S. Workforce – the 2019 National Compensation Survey (NCS) from the federal Bureau of Labor Statistics. Many of those teleworkers were managers or other white-collar professionals.
As employee preferences shift, flexibility from employers will be critical in response. While many more employees may want to work from home, others will still prefer to be on-site. And of course there will always be a need to gather employees together to innovate, co-create strategy, and energize and motivate the full team. Employers who can identify the best working situations for their teams now and in the future will be better poised to succeed and win.
What's Included in This Helpful Guide
12 Tips for Employers to Navigate the Future World of Work is a quick and easy reference guide with insights on employers' most pressing needs today, including tips on:
Crafting a specialized response to the needs of on-site employees during a pandemic
Establishing a flexible response to where employees work in the future
Creating a smooth transition for new employees coming on board virtually
Re-setting priorities and goals given the new realities of the economy today
Enhancing your culture to improve how you operate and win
Communicating with impact
Strengthening the employee/employer relationship through trust
And more!
Get Your Copy
To download a free copy of the eBook, click here.
What do you see as some of the most important steps employers can take today to navigate the evolving needs of the workforce? We welcome your insights on what's worked in your own organization and what could be done better in the comments below.
—David Grossman