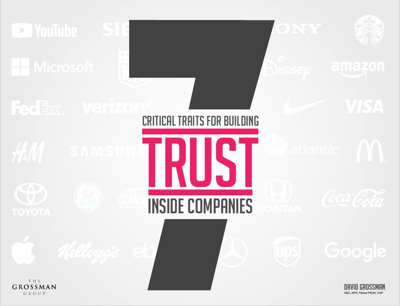 Trust Everywhere is Eroding
Several recent surveys show a serious decline in the trust key stakeholders have in organizations. Earlier this year, a major annual study underscored the scope of the problem, revealing the largest-ever drop in trust among the general population.
Research shows further that trust is linked directly to success in organizational performance generally and financial performance specifically. It's becoming increasingly clear that understanding ways to build organizational trust should be a priority for leaders and companies today.
How This eBook Can Help You
Seven Critical Traits for Building Trust in Companies shares the characteristics that organizations need to consider developing as a way to create a roadmap for greater trust. It also offers a practical outline of actions that you can take to move forward in designing opportunities for positive change related to trust.
The organizations and leaders who are considered more trustworthy share a set of traits that others can replicate to improve trust in their own organizations. The insights in this eBook are based on our research and consulting experience with leaders whose focus on trust has helped them win both internally and externally.
Trust building traits include:
Finding a sense of purpose for your organization

Acting with authenticity

Crafting a sense of community that involves a sense of belonging for all

And more!
Each section of the eBook first features a working definition and examples for the characteristics. Then, thought starters as well as specific tasks for moving organizations in the direction these definitions follow.
Get Your Copy
Click below to download—Seven Critical Traits for Building Trust in Companies—today.
In what ways might building more trust in your organization lead to better business outcomes?
—David Grossman