December 2, 2019
New eBook: Make the Most of Your Town Hall – 10 Ways to Unleash the Power of Your Team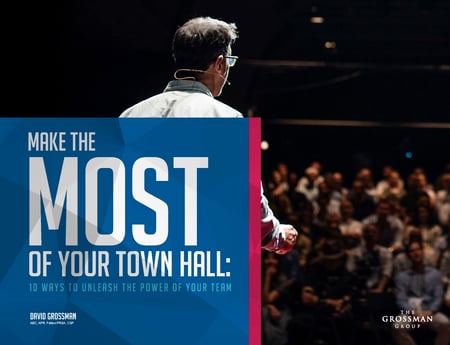 If you're like a lot of leaders I know, you're constantly looking for ideas to make your next town hall feel more exciting and inspiring for employees. And that's a good instinct. The truth is that many companies are long overdue for a town hall makeover.
Sometimes leaders even acknowledge this reality to me, but still feel too pressed for time and resources to make the necessary changes to their regular "all hands" meetings, which typically occur once per quarter or once annually. After all, the traditional script, audio and/or video presentation is easy enough to pull off. Some wonder if it really matters all that much to do more than that.
What I've found in advising scores of companies is that an effective town hall matters a great deal. Especially for global companies with remote workers, town halls are often one of the best or only opportunities for senior leaders to connect with employees in a meaningful way. It stands to reason that the interactions ought to stand out as some of the best parts of the employee experience.
Our new eBook, Make the Most of Your Town Hall: 10 Ways to Unleash the Power of Your Team, provides key insights into many emerging trends and strategies for revitalizing town halls.
Using Your Town Hall to Unleash Your Team's Power
The latest research shows that employee expectations are changing. They are looking for more opportunities for meaningful interactions with leadership and a better understanding of the company's purpose and goals. In this eBook, we offer insights into the top 10 ways the best organizations leverage their town halls to connect employees to their leaders, to the company vision and values, and to just what the organization stands for.
Those approaches include:
Building employee trust in leadership
Helping drive the critical employee behaviors that an organization needs to succeed
Bringing the "Wow factor" to a town hall
Maximizing new, interactive technology at town hall
Incorporating better storytelling to educate and inspire employees
Building more conversations among employees
Incorporating new tools such as gamification
And more!
A Cutting-Edge Resource
Communicators face real challenges in revitalizing their town halls to better engage and inspire employees. However, there are proven strategies that work and our eBook gets you the essentials.
You'll see what's going well, how you might improve, and gain new insights into winning approaches you may not have considered.
Get Your Copy
Click below to access your free copy of Make the Most of Your Town Hall: 10 Ways to Unleash the Power of Your Team.
As you think about town halls, what ideas might you already have to improve the way leaders interact and engage with employees to bring even greater success to the organization?
—David Grossman