October 19, 2020
New eBook: Reflect, Reimagine and Reboot Your Internal Communications Plan Through the Pandemic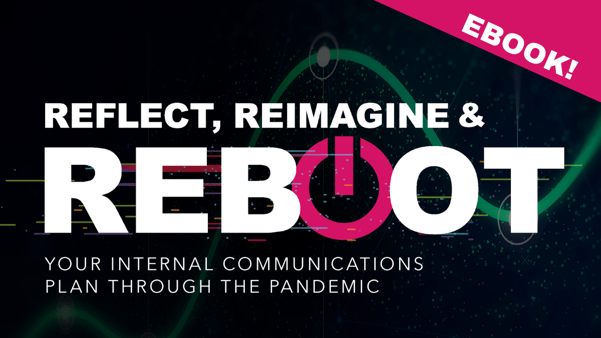 Businesses have certainly been on a wild ride in 2020. With the pandemic and ensuing social unrest coupled with economic instability and ongoing health and safety concerns, many company leaders struggle to find new footing and a clear path forward, especially with so much uncertainty swirling around them.
This time of uncertainty, however, has been a real opportunity for communicators, who find that their role has never been more important. The dramatic changes to business as usual in such a short time have handed communicators a crash course in determining what truly works and what's still needed to unite, engage and drive companies forward against their strategy.
To help communicators strategically respond to the rapidly evolving needs of their organizations, The Grossman Group has released a new eBook, Reflect, Reimagine and Reboot Your Internal Communications Plan Through the Pandemic.
Communications Plans Must Shift in Response to the Events of 2020
In our work with leaders over the last several months, we've seen many companies dramatically shifting their priorities to meet the moment. They need a new communications plan and strategy for the near future, and they need it yesterday. What we've tried to do through our new eBook is to provide a quick and easily digestible framework to wisely reboot your communications strategy in short order.
The range of urgent new priorities for many companies is vast. For instance, in response to social unrest, many companies have made equity, diversity and inclusion a much bigger focus. Many more are also looking at new ways to connect and engage with employees working remotely or in challenging conditions inside factories, retail and healthcare settings. With the new priorities comes a real need to quickly shift the full communications strategy in response to the pressing needs of business today.
Leveraging the 3Rs Internal Communication Model
The primary framework of this eBook leverages the 3Rs Internal Communications Model, which we created to guide communications leaders through a communications plan overhaul during periods of significant change or crisis.
The model is designed to help leaders figure out what they've learned from the past year – what worked, what didn't, what's worth keeping, and what the organization needs in the future. From there, leaders can envision what's possible and create the ideal communications approach with an actionable plan.
What's Included in this Guide to Reboot Internal Communications
Reflect, Reimagine and Reboot Your Internal Communications Plan Through the Pandemic is a comprehensive guide that provides:
Insights and data on how internal communications have changed in 2020

A deep dive into the 3Rs Internal Communication Model and how you can apply it in your organization today

Background on the value of taking inventory of your internal communications and a free worksheet to guide you

An assessment to help you weigh your team's communication competencies

Strategies to help you move past anecdotal ideas to a better approach and overall communications function that's fit for the future of business during the pandemic and beyond

A proven model to build your business case for the internal communications resources and the infrastructure you need to be successful going forward

Solutions to reboot your communications plan in less than a day

And more!
Get Your Free Copy
To download a free copy of the eBook, click here.
What's holding you back from rebooting communications in your organization, and how might this approach help you?
—David Grossman