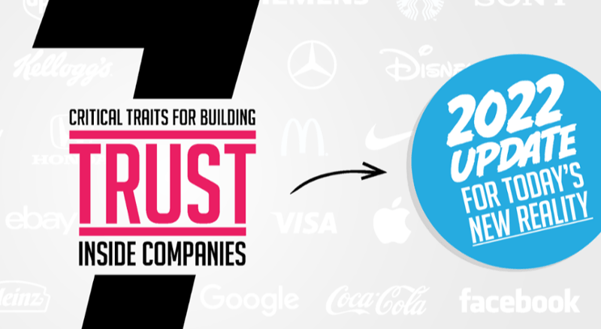 Employee engagement falling. People leaving their jobs in record numbers. Burned out employees seeking a new sense of purpose in their work. All these major trends can often be traced back to a lack of one key ingredient in work culture – trust in leadership.  
In our newly revised eBook, 7 Critical Traits for Building Trust Inside Companies, we offer new data, examine the trust problem and offer leaders a go-to playbook for how to reverse these trends and build a powerful new level of trust within the culture. 
Building Trust Is Good for Business 
Employees are less productive when they don't feel trusted – or when they don't have trust in their bosses – and many of the organizations we've worked with in recent years have seen this firsthand.
In our time working with leaders, we've never seen them more focused on better connecting and building employee relationships than they are today. Yet even with this reinvigorated effort, leaders are finding there is a shortage of resources to provide the practical tools they need to start achieving that new level of trust.
This eBook summarizes top research today that indicates trustworthy public companies outperform their peers and retain more productive and engaged employees, proving that building trust is not just good for employees; it's good for business.
There are 7 Critical Traits to Build Trust
The new eBook outlines the key traits leaders should focus on to shore up trust, along with actionable advice on a myriad of trust-related topics, including:  
How to act in more authentic ways, consistent with the purpose and values of the company  
Guidance for how to be a more transparent leader  
Tips for better listening to employee needs and wants 
The best ways to become a better, more engaging communicator 
How to build a stronger sense of community and culture that your employees genuinely appreciate, respect and even brag about  
Thoughts on how you can establish your leadership team as a genuinely trusted, respected voice within your organization  
Get Your Free Copy
Download a free copy of the eBook today.
How can improving trust help you drive your desired business outcomes?

—David Grossman