February 27, 2019
Someone to Know: Q&A with AmerisourceBergen Vice President of Business Communications and Executive Support Ginette Meluso
Ginette Meluso, Vice President of Business Communications and Executive Support at AmerisourceBergen, has impressive experience in communication strategy across a variety of sectors, including government, agency and corporate environments. With nearly 20 years of experience in the field, Ginette embraces continuous learning of all things communications and is an advocate for leaders and associates alike. She led her team in building AmerisourceBergen's internal communications function from the ground up through an expansion that now serves an enterprise of 21,000 associates. Passionate about being in service to others, this creative, results-driven, strategic communication professional is definitely someone to know. We discuss her compelling insights in our Q&A.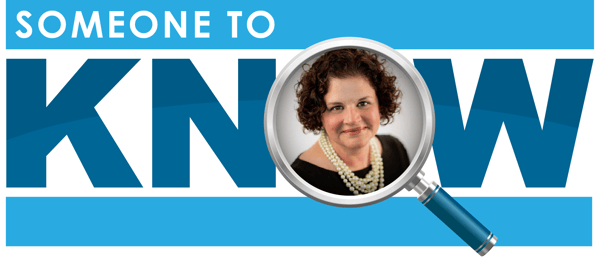 Q&A with Ginette Meluso,
Vice President of Business Communications
and Executive Support at AmerisourceBergen
Q: You've done a ton in your career. Where are you focused today and how do you think about your role?
A: I think the way I approach my career is based on the fact that deep down, I am really just an English professor that ended up being a professional communicator. School was something I enjoyed tremendously and when I started college, I thought I might go on to teach in higher education. When internships led me toward politics and the field of communications, I realized I could make my career something that allowed me lifelong learning—as I sought to understand communications from every angle I could, whether government, non-profit, agency or corporate.
I have always wanted to understand how this discipline and your approach to it might change not just based on audience or goal, but fundamentally by the nature of what you are doing, who you are doing it for and why you are doing it.
It's been a rich education and one that taught me not just about the career I have chosen, but who I want to be as a leader and a person. I believe very strongly that the best communicators (and leaders) enable and build capability while also inspiring, educating and creating awareness.
Q: You mentioned your function is at a crossroads. How might you describe where you are, and how you are thinking about the future?
A: Being at AmerisourceBergen has been my master class in communications. It's an incredible, purpose-driven company with bright, dedicated and talented people. It's allowed me to continue my personal passion of being in service to others by virtue of working for a company that delivers lifesaving medication to healthcare practitioners and their patients every day. It's also allowed me to continue on my journey of lifelong learning in that our industry—healthcare—is incredibly challenging and always changing.
When I came to AmerisourceBergen there was a real opportunity to build internal communications as a function in one of our business units. It was an incredible gift—to essentially start something from the ground up at a company of such prominence. In the last year, my team has expanded our role to serve the enterprise of 21,000 associates as we became part of a centralized Communications & Marketing organization. In addition to trying to replicate what we have been able to do for one business unit in others, I am closely working with our enterprise internal communications team to streamline and personalize content for our global audiences. This means new processes, tools and ways of working together that are complicated and sometimes scary in the unknown, but exciting in that we are truly supporting our colleagues across the organization in a more meaningful way. Just as it was seven years ago when I joined, we are building something new and that is so fulfilling—everything from personalized newsletters to a brand new internal communications app.
Q: As you think about the ideal communications system today for AmerisourceBergen, what are some of the elements that you know of for sure?
A: After we had built a baseline of tools and mechanisms to communicate frequently and specifically, we started to think about the diversity of our audiences—and what I mean by that is how our associates work, where they work, how much access they have to our systems and leaders and even as individuals, how they might learn.
We have associates who sit at a desk and walk around with the laptops to every meeting, we have associates who work overnight in a distribution center making sure every shipment has the right medications in it, we have sales associates on the road visiting customers all week and we have nurses on the phone helping patients get access to and stay adherent to their medication therapy, just to name a few of our audiences.
For each of them, I want to be able to deliver information that helps them do their job better, reinforces the importance of what they do for patients and keeps them informed about where the company is going and how they can contribute to our strategy and our success. And, of course, we have to do it in a very resource-efficient manner.
What I am most excited about right now is we are piloting a mobile communications technology that could help us reach all of these audiences better than we ever have before. Of course, we will still do e-newsletters, emails, town halls, videos and digital signage, but I think mobile could end up being foundational to our future communications efforts.
Q: At a time when so many organizations have limited resources, what's your most compelling argument for the importance of internal and executive communications?
A: Everything we read and hear about these days is about the importance of culture and purpose. Internal and executive communications is the most powerful tool leaders can leverage to build both efficiently. Good communications can tell your story, create dialogue, build trust, help you align on priorities, recognize and replicate best practices and learn from challenges. It is the way that you can most effectively give purpose and culture a voice and amplify it throughout your organization.
Q: What have you found that works best to help a leader understand the value of improving how he or she communicates and leads?
A: First, that I see my job as being an advocate for our associates, including our leaders. My job is to make sure our people can do their jobs effectively—whether they are in a distribution center or in our headquarters.
Second, honesty. A great mentor once told me to remember that I am being paid to push back if I am not in agreement about something. I am a firm believer that when we challenge one another to consider a different perspective or approach, we get better results. My goal is to be a strategic advisor who is recognized for bringing a valuable perspective to every conversation.
My current job makes it easy though, and I am lucky—the leaders I support know that our associates are our most valuable resource and are also very service-oriented, so they believe in communications as a critical way to support our teams.
Q: Finally, what one prediction do you have for communications in 2019?
A: Moving to mobile! We cannot ignore the fact that everyone has a phone, and there is an incredible opportunity to leverage a tool they also use in their "off time" effectively at work—especially for those without (or without regular access) to email.
----
About Ginette

Ginette Meluso serves as Vice President, Business Communications and Executive Support for AmerisourceBergen, ranked #12 on the Fortune 500. Ginette began her career in the Pennsylvania Governor's Office, serving in the Pennsylvania Council on the Arts and later, as Deputy Press Secretary for the First Lady in the Ridge/Schweiker administration. After moving to Philadelphia, Ginette joined the Philadelphia Zoo overseeing media relations, employee communications and publications. She served in the President's Office of the Pew Charitable Trusts as liaison to communications, government and donor relations departments and then joined a Philadelphia-based PR agency working on accounts from Rohm and Haas, Tastykake and Airgas to The Mark Twain House in Connecticut. That work led her to her current role at AmerisourceBergen, where she has been since 2011. Ginette graduated from Lehigh University in 1999 with a B.A. in English and Political Science.
To read more executive Q&As in our Someone to Know Series, click here.
Click below to download this eBook—Use the Right Channels to Communicate with Impact—and see how being more purposeful when choosing communication channels leads to less clutter and more effective communications with employees.