July 22, 2020
What's Keeping You Up at Night? A Lot of Uncertainty, Survey Finds

Amid Pandemic, Employee Concerns Command Leader Attention
The Grossman Group recently conducted a survey of dozens of leaders and communicators, asking a frank question: "What's keeping you up at night?"
It turns out that the answer was essentially, "a lot!" Here's a sampling of one respondent who summed up the wide-ranging concerns in a hospital setting:
"I work in healthcare in NYC. My staff are already suffering on a personal level, dealing with all the changes brought on by COVID (risk of exposure, lack of social/familial support, childcare, spouse job loss, death and illness of loved ones). Added to that is the fact that we have had to completely change the way we work, resulting in a significant increase in individual workload to get the same work done. The hospital still has to function. Money is EXTREMELY tight. I can't get any additional resources. And my staff are drowning. How do I support my staff (and advocate for them) in a situation that seems impossible to manage?"
While this respondent had more to confront than most, a general sense of unrest was common.
On the whole, leaders and communicators shared one key theme: uncertainty – personally, around the pandemic, and about how to communicate amid so much change.
All of this uncertainty sends a clear message to leaders and communicators navigating business priorities against the realities of a global pandemic. While core business priorities can certainly still get accomplished, leaders need to continue being mindful of their key audience: employees. If leaders are feeling the uncertainty, the same is likely true for all employees. When your peers and employees feel this unsettled, it is important to lead and communicate with empathy, patience and understanding – essentially, with heart.
I offer some tips for how to accomplish that later in this blog. First, here's a brief recap of some common responses to our survey of more than 80 communicators and leaders across the country. We've grouped them under three main categories of uncertainty.
Top Concerns of Leaders and Communicators
Personal uncertainty:
"I'm worrying about the future."
"The economy and job losses due to the pandemic."
"My job, the kids, finances."
Uncertainty around the pandemic:
"Not knowing when this will be over and when we can go back to normal."
"Balancing the needs of health and safety in the workplace with the generally unsafe behaviors outside of work due to cities and communities re-opening."
"Working to keep my staff employed, seen as essential during this time."
Uncertainty over how to navigate communicating change and the challenges that come with it:
"Starts and stops of communications campaigns in response to ever-evolving mood and fears about the virus."
"Magnitude (both volume and impact) of change efforts underway (return to workplace, diversity and inclusion, etc.)"
"The immense workload and not having the time to really think through critical issues, while keeping our 'day jobs' running."

4 Tips to Address Ongoing Leader and Communicator Concerns
Given all these varied needs, what's the best way for leaders and communicators to respond? What's most important to take on? The answer naturally depends on the individual situation, but there are general best practices that apply to everyone. Here's four of our best tips for effective leadership and communication during these trying times:
1. Pause and Reflect, Listen More, and Connect.
Take time to pause and reflect. At first, this may seem ridiculous and unrealistic given all that's on the plate of leaders in the midst of a crisis, but I promise it's essential. It can be tempting to keep moving at a frenetic pace, dismissing your own needs for the good of the company. Yet to be effective, leaders need to start with themselves. After all, the first person all leaders need to lead is themselves. As is the case in the rare instance of an emergency on board a plane, you're advised to put on your oxygen mask first, then you help others. I like that message because it helps us all understand that personal priorities need to be taken care of, too. Keep yourself and your family safe and healthy. Get enough sleep. Do things that bring you positive energy. In a nutshell – take care of yourself so you're in the best position to lead others. This time for yourself can also include essential moments to reflect on what you're doing well and what you could be doing better for the people you manage.
In addition to taking care of your personal needs, focus on listening more to the needs of your team. You need to know what they care about and get into their mindset to move them to any action.
The requests for input and feedback should be constant and sincere throughout the period of uncertainty. That's because whether employees ask them or not, there are several key questions on their minds during times of change. I refer to them as The Eight Key Questions All Employees Have (including senior-most leaders). These questions are a lot like Maslow's Hierarchy of Needs, a psychological theory which states that only after a person has fulfilled certain levels of needs can he or she begin to move to more complex levels of thought, such as self-awareness and understanding of others' concerns (or the concerns of their company).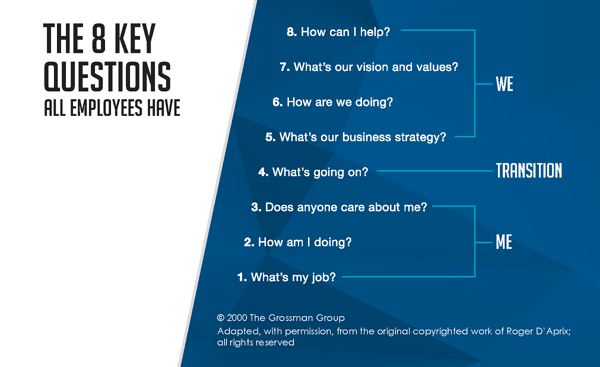 The Eight Key Questions reinforce that employees and leaders alike continue to have basic "me-focused" questions that must be addressed. Leaders need to ensure they are not adding to the employee distress by covering too many issues that aren't relevant or business critical without first addressing the employees' basic needs.
2. Follow 3 + 1.
One of the best strategies for managing teams and communicating effectively during times of crisis is to be as upfront and proactive in your communication as possible. Here's one quick strategy to help you do that: 3 + 1.
The 3 is:
Here's what we know
Here's what we don't know
Here's what we're working on finding out
The 1 is:
All the work you're doing to proactively bust myths inside the company
For example, you might say: "I want to address something I heard that's not true" – and then share exactly what it is you know/don't know
Busting myths is a critical step that leaders and communicators must do proactively, but often miss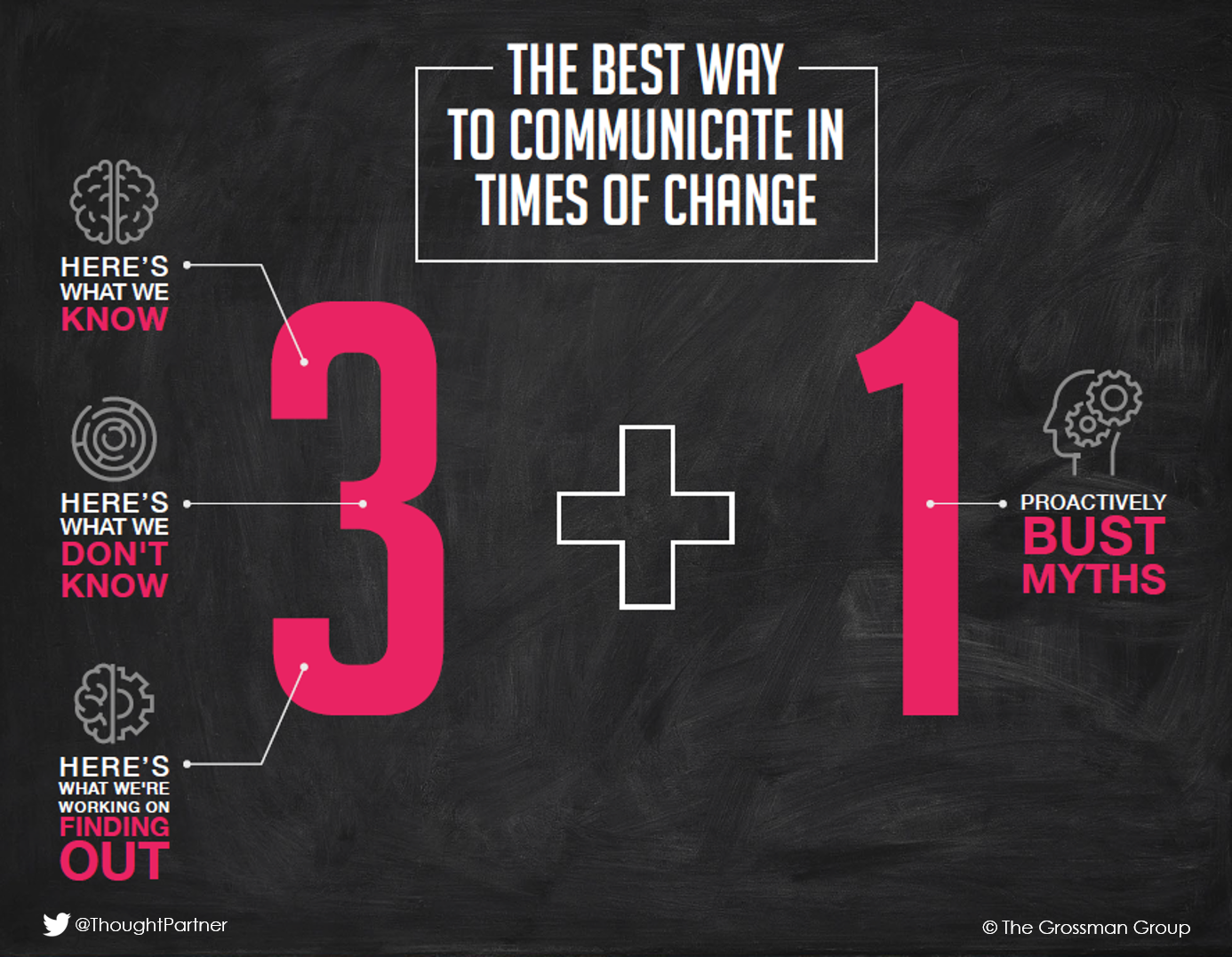 3. Create Space for Ongoing Personal and Tough Conversations.
As busy as leaders are, it's still important to set aside time to connect with employees on a personal level, whether through a quick call or through small group conversations. Often, employees need to be invited to share feedback as many aren't comfortable offering it on their own.
One simple way to invite employee feedback on issues and concerns is to ask this simple question: What's keeping you up at night, and how can I help? In this crisis, some leaders are addressing these questions by hosting more virtual coffees, virtual walks, and other creative ideas to connect with a predominantly remote workforce.
4. Declutter Your Communications.
With so much worry on employees' minds, now is not the time for mixed messages. Employees need to know what's most critical to your company's success and to their jobs, and probably aren't ready for less business-critical initiatives. This means it may be time to "declutter" your communications approach, with a focus on narrowing the communications to areas that are of the highest priority for the business to grow and win. To determine what's most critical, it may also be time to do some quick surveys of employees to assess what's working and what's not. What do employees want to know more about? What communication sources and channels are working best for them in today's environment? What might be even more effective if you did more of it? Conversely, what's not working, or could be eliminated?
Proven Strategies That Work During Times of Uncertainty in the Workplace
In our work with leaders and communicators over the last several months, we've seen many effective strategies for keeping employees informed and engaged during this challenging time.
Here's a snapshot:
Regularly hosting "Ask me Anything" sessions, inviting questions from employees on a more regular basis through social media channels, Intranet, on conference calls or via email
A new weekly newsletter put together by staff with updates on key developments in the business, team wins, challenges ahead
Regularly celebrating team wins and individual accomplishments on team calls
Leader toolkits to help front-line managers walk their teams through key strategic developments in the business or other changes that impact employees. Through the toolkits, help employees get their key questions answered. Be sure to directly address the top questions on employees' minds at all times: What does this all mean for me? Do I still have a job? What do I need to do differently?
The ultimate strategy for responding to employees' varied needs today comes down to heart. Leaders and communicators who demonstrate that they genuinely care about responding to employee needs are going to make far bigger strides in employee engagement. They will also get better results than those who insist are forging ahead, regardless of what their audience thinks or feels.
What's your plan for listening better to employees and helping them navigate through these uncertain times?
—David Grossman