April 18, 2022
4 Major Changes Impacting Internal Communications in Healthcare in 2022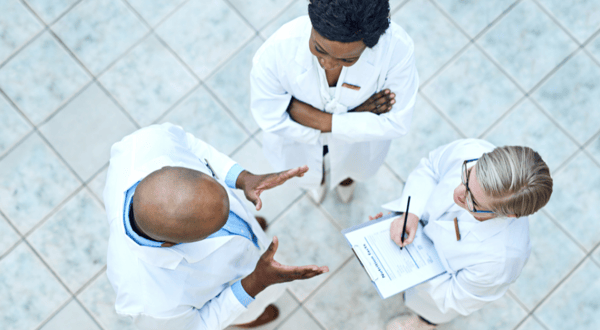 The unprecedented shift companies are experiencing due to a staggering transformation of the American workforce is one of the biggest concerns facing employers today and is hitting healthcare especially hard as the industry ranks as the second-largest sector impacted by the Great Resignation. While we can't control a global pandemic stretching the healthcare workforce even thinner than it already was, we can make a difference when it comes to change fatigue.
4 Key Factors Affecting Healthcare Employees and Organizations
Here are the four key factors and changes that are constantly creating ever-shifting contexts and engendering the employee insecurity and uncertainty (even fear) that directly impacts your organization's culture and success.
Change #1: Business Environment
Talk is cheap for today's workforce – especially when it comes to leaders and their ability to build and maintain trust. These days, organizations are under attack and protecting every asset. The pressure is mounting for leaders to find the answers. Employees, who need to stay focused and productive now more than ever, are numb from fear of the line between work and home completely blurring, of taking on more work, of the unknown, or of a combination of all three. Trust – in institutions, government, the media, and across the general population – is at an all-time low, which means employers must work even harder to overcome the innate skepticism plaguing the workforce.
59% of people distrust others until they see evidence that they are trustworthy, according to the 2022 Edelman Trust Barometer.
People also worry about being misled on purpose by misinformation (up 7 points for business leaders, 8 points for journalists and reporters, and 9 points for their country's government leaders), based on the same survey.
Today, employees are putting leaders of all levels on notice that when it comes to earning trust, they need to work harder. Social unrest, corporate scandals, and regulatory requirements from the Centers for Medicare & Medicaid Services (CMS) and HIPAA, to name just a few, have led to greater expectations and regulations around transparency, and remain front-and-center in employees' minds. In pursuing genuine trust, leaders need to strive for consistency of words and actions that stand the test of time and lead to a real relationship with employees. That relationship needs to be motivated by meeting mutually beneficial needs, not selfish needs that only benefit one party.
Change #2: Employee-Employer Contract
The relationship between employers and employees is changing every day. Health-related organizations from start-ups to well-established systems are demanding more quality and productivity as they face intense pressures to reduce expenses and be profitable. At the same time, many frontline healthcare workers and those manning device and drug manufacturing production lines are being asked to risk their own lives at times, while their office-based colleagues have the luxury of working from home.
In the wake of significant business challenges, such as supply chain issues and a continuing shift in payment models from fee-for-service to outcomes-based funding, many organizations are making cuts across all areas of their operations – including employee training & development and benefits. Meanwhile, other organizations are dealing with increased pressure ranging from clinical workforce shortages and unions to additional technology-driven infrastructure costs and slowed approvals for taking discoveries that are not vaccine-related from bench to bedside.
It's becoming increasingly difficult for employees to commit discretionary effort and to stay committed when the very foundation of what they expect from their employer can change in an instant.
Either way, it's becoming increasingly difficult for employees to commit discretionary effort and to stay committed when the very foundation of what they expect from their employer can change in an instant. Because of this diminishing loyalty, one has to wonder, "Does the employee-employer contract as we've known it still exist?"
The answer is no.
The old "contract" has been replaced by a new "deal." The new deal is more of an understanding than a contract, yet it can still be stated explicitly: organizations must make it crystal clear what they expect from their employees and what employees can expect from the organization – and employers must deliver on those expectations without fail.
Change #3: Technology
The digital age is the great leveler when it comes to accessing information for patients, care providers and employees alike. Not only is it easier for employees to get information more quickly, but the proliferation of vehicles like blogs and social media also makes it a lot easier for employees to make information available to others.
At the same time, organizations are sometimes challenged with getting news to employees before the media and bloggers shape perceptions, and with sharing news of key issues, such as changes in leadership or stock prices.
Social media has taken hold in a myriad of ways that can make employees feel more connected and informed, but also can create a false sense of interaction and relationship-building, especially for those who are now working remotely.
Healthcare organizations need new and different ways to break through the clutter, so they reach – and hold – employees' attention and engagement by getting to them first and in more meaningful ways without distracting from patient care or research timelines.
Change #4: Global Events
COVID-19 offered many lessons, not the least of which is that an ocean barely even slows connectedness from one continent to another, let alone a global pandemic. As the world becomes smaller and global competition intensifies, organizations are focused on new and different ways to boost performance and productivity. Moreover, healthcare leaders are taxed with creating positive margins in an uncertain and ever-changing global economy.
Blurred geographic boundaries enabled by technological advancements, combined with the force of global events, supply shortages, political crises in various parts of the world, and intense economic pressures require organizations to make tough decisions that impact employees at all levels.
This directly influences communication as organizations try to find the best way to communicate with employees in different locations, with multiple languages, varying immediate concerns, and a variety of cultures and norms.
Organizations still need to communicate their messages, but in a way that is faster and appeals to the various cultural nuances, all the while contending with increased scrutiny from the public and government oversight.
Establishing a Stable Future
The business of healthcare has, indeed, entered a new era that leaves communicators and leaders with the daunting challenge of keeping employees focused, committed and engaged in what feels like the eye of a hurricane. The good news is that good internal communication can create a consistently calm harbor even in the stormiest environments.
How could you utilize authentic, purposeful internal communication to lead with impact as you guide your organization through an ever-changing landscape?
—David Grossman
---
This resource provides communications leaders with a turnkey guide to developing impactful internal communications that meet the unique needs of healthcare employees. Click below to download the Internal Communications as a Differentiator for Healthcare Post-Pandemic ebook today!