February 28, 2013
Yahoo poorly communicates new "in office" policy to employees
All work-from-home employees: Back to your offices. That was the direction provided by the head of HR at Yahoo last week.
Starting in June, all Yahoo employees must work from Yahoo offices. There will be no telecommuting or working from home. Employees who work from home must comply without exception or quit. The tone and tactics have infuriated some at the company. Many employees are upset and have said that company morale has been seriously impacted.
Bold leadership or bad decision?
In reading the poorly constructed memo to employees, I can understand why many are upset. There's little rationale for this move, especially for a technology company, and the direction comes in a memo that applauds the "positive momentum" and that the HR head "can all feel the buzz and energy in our offices."
Call that buzz kill. And you can be sure people are now buzzing about what might be a bold move that comes without a burning platform for change. Worse yet is the empty goal to "become the absolute best place to work." The memo goes on to say that (better) collaboration and communication will be important so employees need to work side-by-side. What's the case for change? The real business problems that this move might solve?
I'm all for bringing back face-to-face communication in today's era of technology and overloaded email boxes, and applaud the desire and need for people to collaborate and communicate better. But to what end given the business environment and strategy for Yahoo?
Has business slowed and engagement scores declined on collaboration and communication, which have negatively impacted business results? Have there been significant issues with employees working from home?
News reports mention CEO Marissa Mayer needs to turn the business around. Is this an all-hands-on-deck situation? You wouldn't know there were issues by how the memo ends either. More rah-rah: "Thanks to all of you, we've already made remarkable progress as a company – and the best is yet to come."
One can't know from the outside all of what's going on.
But one can advocate for better communication:
Just because a change involves people or policy doesn't mean the head of HR should be the voice. When it's about business, the communication should come from the head of the business.
There needs to be a burning platform for change that explains why this is the only decision that can be made for the sake of the business.
How will the CEO and senior leadership lead by example?
Don't try to wrap a decision in rah-rah. Treat people like adults and tell them what the problem is, how it's impacting the business, and why the "in-the-office" decision needs to be made. Show empathy: acknowledge that this change might be hard for some.
If possible, test the concept to prove whether this significant change in how people work actually brings the expected benefits. If so, share this proof when you communicate to employees.
In the same spirit, test the messaging and communication strategy with groups of employees to get their feedback on how to best express the decision.
Clearly, tough times call for tough decisions and bold leadership. Yet that bold leadership communicated poorly is little more than a problem that needs to be cleaned up. And a distraction that keeps people from focusing on the business.
I'm glad the company has a few months before implementation to explain itself in a more thoughtful and credible way. Or change its mind.
What do you think? Click the image below for more of my thoughts.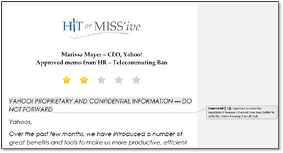 - David Grossman
Photo credit: Amy Hsieh | Daily Trojan
______________
Are you a leader faced with some tough decisions? Download The Se7en Deadly Sins of Leadership to help ensure you stay on track.