July 24, 2023
Authentic Leadership: What it Means, Why it Matters, and How to Achieve It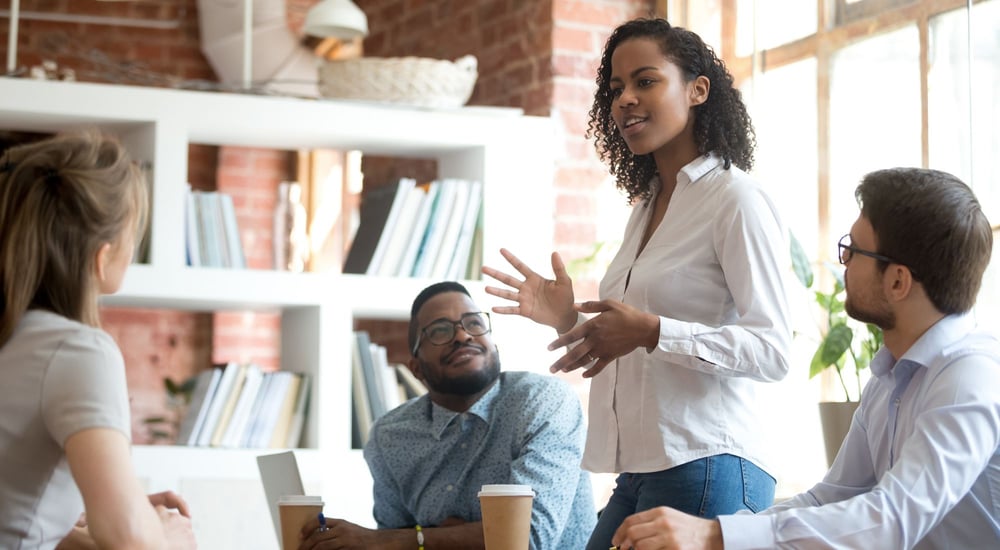 Authentic leadership is one of the most popular topics in business today, with no shortage of books, podcasts, and articles on the concept. And for good reason. Employees are increasingly seeking authentic leaders committed to transparency, integrity, and genuine relationships with their teams.
What Is Authentic Leadership?
Authentic leadership means embracing high standards, integrity, and acting in the best interests of the people you lead, which then builds trust and naturally leads to stronger teams.
And taking the concept of Authentic Leadership a step further, I want to introduce you to what I call Respectful Authenticity, which at its core is about being true to yourself and acting in ways that are consistent with your values.
Authenticity – the concept – has been around for a long time.
I'm adding the word respectful to help distinguish it as a powerful tool in the workplace. Adding the notion of respectful helps eliminate many of the downsides that can come with plain old authenticity.
Being authentic isn't about saying whatever you think or feel. That approach can be damaging either to you personally or to the company. Being authentic doesn't give you license to be an S.O.B. We all know people who've taken this kind of approach – the "This is me – like it or not!" attitude or "I'm mad and am entitled to yell at people." By contrast, Respectful Authenticity isn't about doing whatever you want and not caring about the people around you.
Here's a secret that the best authentic leaders know, that others don't: The most successful authentic leaders share their truths with quiet courage, and with a sensitivity to others' needs.
The Concept of Authentic Leadership in Business Is Relatively New
Many leaders point to bestselling author and former Medtronic CEO Bill George as the first to popularize the term with his 2003 book, Authentic Leadership. In a recent interview, George said a key goal of authentic leaders is to build extraordinary relationships with employees by reflecting on their own values and goals and working to instill a similar sense of integrity and meaningful work within the team. "How do you inspire people, how do you help them reach their full potential?" he said.
George followed up on his original book with another bestseller: True North: Discover Your Authentic Leadership, and recently released a new edition focusing on emerging leaders. In an interview with a McKinsey & Company leader, George described what's driving the push for authentic leadership today.

"We are going through a massive generational change in leadership, from baby boomers to Gen Xers, Millennials, and Gen Z, and this book is a clarion call to them to lead authentically and make contributions with a deep sense of purpose," he said.

"I'm pleased to see corporations around the world are shifting to authentic leaders and moving away from the power-based command-and-control type leaders. Today, people don't leave companies, they leave bad managers, so we need strong leaders at all levels – not just CEOs."
Why Is Authentic Leadership Important?
Authenticity has never been more critical to great leadership. High-profile business leadership and ethics scandals remain in the headlines, contributing to a growing lack of trust in organizations. On average, according to multiple studies, only a third of U.S. employees are engaged and less than half of that percentage are engaged globally.
Yet research demonstrates that authentic leaders often achieve better engagement – and better business results. Here are some key specifics on why authenticity is important:
1. Authentic leaders make employees more comfortable and engaged
From our experience with clients at The Grossman Group, we've found that there are fewer question marks about what's on a genuinely authentic leader's mind because those leaders regularly communicate what matters to them and what they expect. In return, employees feel much more motivated. In the end, authentic leaders create fundamentally different relationships with the people they lead and their peers.
2. Authentic leaders produce positive business outcomes
In a report in Administrative Science Quarterly, Cornell University researchers Daniel Cable, Francesca Gino, and Bradley Staats found a distinct competitive advantage for companies that "strategically encourage authenticity at work" from the employees' initial weeks on the job. This is not just about the leader being authentic, but also encouraging the team to make authenticity a core tenet for how work is approached.
The researchers found that organizations that encourage employees to share personal strengths and values during employee orientation programs had significantly higher retention and engagement than organizations that focused solely on a company's values and expectations during employee onboarding.
Researchers pointed to more effective orientation models, where newcomers are given time to reflect on such questions as: "What is unique about you that leads to your happiest times and best performance at work?" Employees might also be invited to introduce themselves to new colleagues by sharing their "best selves," including who they are, what they do best, and what matters to them. In this way, employees get a chance to frame the new job as a chance to be their best selves at work.
The authors outline some of the positive outcomes from such an approach, including:
Giving employees greater feelings of connection with colleagues
Encouraging employees to invest more personal energy into their work
Helping employees see the workplace as an environment where they are understood
Giving employees the motivation to reach their goals by exercising their personal strengths
3. Authentic leaders build a greater sense of commitment and loyalty from their team members
Another key benefit of authentic leadership is that it's a fast track to a close-knit team. Especially in the aftermath of COVID-19, many workers began to rethink their relationship with work, often concluding that they wanted more purpose and meaning in their careers. This ushered in a "Great Resignation" of employees leaving their jobs and, in turn, caused leaders to reconsider how they led.
Researchers have seen a direct correlation between authenticity and employee personal growth and satisfaction, which can naturally boost retention. Employees who work for authentic leaders tend to have higher levels of self-awareness, self-esteem, and self-development.
Some research has also pointed to authentic leaders helping to inspire moral courage among their employees.
Several other studies have shown a direct correlation between leader empathy and stronger business results. Naturally, empathy and authenticity are closely related.
According to an EY Consulting Group Survey, 90% of workers believe empathetic leadership leads to higher job satisfaction. When employee experience is prioritized, job satisfaction improves. Another study from Catalyst found that leaders who practice empathy have been shown to have a more engaged, higher-performing team as a more profitable business overall.
Authentic Leadership Characteristics
Bill George's classic Authentic Leadership text defines authentic leaders as having five key traits:
Pursuing their purpose with passion
Practicing solid values
Leading with their hearts as well as their heads
Establishing connected relationships
Demonstrating self-discipline
"To be effective leaders of people, authentic leaders must first discover the purpose of their leadership," George said. "If they don't, they are at the mercy of their egos and narcissistic impulses. To discover their purpose, authentic leaders have to understand themselves and the passions that animate their life stories."
From our own decades of work with leaders inside top companies, we've identified similar traits, narrowing our perspective down to these five key characteristics of authentic leaders:
1. Authentic leaders respect humility and take time to reflect and bring their best selves to work
"Never look down on anybody unless you're helping them up." This quote from Jesse Jackson is a great way of looking at the power of humility in leadership. If you're humble, you're willing to see that there are always things for you to work on to be better, just as you should encourage your team members to reflect and be willing to learn and grow.
Along with being humble is the ability to know who you are and what you stand for. This is about having an objective understanding of your personality, desires, motivations, and strengths and weaknesses.
Leaders should take the time to constantly evaluate their skills and shortcomings, soliciting honest feedback from candid colleagues on what they're doing well and where they could improve. When this becomes part of the leader's regular practice, they are far more likely to win the respect and loyalty of their team.
In addition to self-reflection, it's important for leaders to prioritize self-care to ensure they are giving their best selves to their employees and have the energy to provide support and guidance to their team.
2. Authentic leaders are empathetic and make a conscious effort to support and bring out the best in others
Authentic leadership is all about relationship building. Authentic leaders take the time to hear how team members are doing, both personally and professionally, and are willing to put themselves in someone else's shoes.
This approach is simply about being more human as you lead, what I call leading with heart. During the pandemic and the ensuing racial unrest, I was continually inspired by the concrete actions leaders took to lead and communicate with empathy and heart. Sometimes it was just about taking time to check in with employees, with no other agenda. In other cases, it was about showing gratitude and letting an employee share their story, or their personal challenges and fears. Leaders who empathized with their employees and fostered sincere connections and relationships were most successful in rallying their teams in a time of crisis to produce positive change.
3. Authentic leaders are honest and candid about possibilities and challenges
Authentic leaders understand that to be truly effective at making change and moving an organization forward, they need to always explain the "why" behind their organizational plans. This means being transparent about competitive data, market opportunities and challenges, and making the vision relevant for employees. At the same time, leaders need to answer the question all employees ask in times of change: "What's in it for me?" Once employees know that, they're far more likely to understand how they fit in and how they can contribute.
Especially in times of change (which is what business is all about today), here are the three key things that employees want from their leaders:
What the leaders know, when they know it
What the leaders don't know and are working to understand
Information presented in a candid, truthful way (don't sugarcoat it, and address head-on any myths or rumors that may be circulating but simply aren't true)
4. Authentic leaders have high moral standards and expectations
Truly authentic leaders have a high moral compass. They care about doing what's right for their teams and moving the organization forward for the mutual benefit of the team as well as the customers and market demands.
Authentic leaders behave in ways that are in sync with their values instead of simply trying to please others or get something from them.
Along your journey as a leader looking to be better, always ask yourself this key question: "What would the best version of myself do?" You need to have the courage to lead with your heart as well as your head in order to be an exceptional leader.
5. Authentic leaders are excellent listeners and communicators
So much about being a great – and authentic – leader comes down to being a great communicator. That starts with taking the time to closely listen to your team members. As a general rule, leaders need to listen a whole lot more than they talk.
At the same time, leaders need to take communication seriously, working with a professional communications team that has a real seat at the table of leadership, helping to build plans and a cadence of communication that provides employees with a "surround sound" approach – using a variety of compelling communication channels, so team members can hear messages in the best way that suits them.
Most importantly, leaders need to ensure that employees have a voice and opportunity to share their views, ask questions, and dialogue with leaders. In this way, leaders can build engaged teams that move mountains for their organization.
How to Be An Authentic Leader (3 Key Steps)
Everyone has what it takes to be an authentic leader. The secret lies in being true to who you are and bringing out the best in others. Here are three key steps to get you started:
1. Take time to reflect on your personal and organizational goals
With the help of your team, reflect on your personal values, write them down, and chart how they line up with the organization's values. This exercise provides a great start for ensuring that what you care about is incorporated in your regular communication. Employees need to see why you are the person to lead the organization toward achieving its goals, what drives you, and why you care about not only your personal success but the success of the full team.
2. Commit to building more genuine relationships with your team
Leaders inspire their teams by showing they care. One of the best ways to do that is to commit to listening more intently to your employees. It's not only inviting employee input on a project, initiative, or ways of working; it's actively listening to understand their employee experience. It's also about proving you value that input by showing appreciation for an employee's point of view and taking action on it.
To create a culture where people feel their input is valued, authentic leaders facilitate dialogue. They set the tone, establish expectations for the entire team, and model active listening.
Some of the best ways to demonstrate active listening include:
Approach each dialogue with the goal to learn something. Regardless of the employee's level or role, think of the person you are speaking with as someone who can teach you. Have an open mind without pushing an agenda.
Stop talking and focus closely on the speaker. Suppress the urge to think about what you're going to say next or to multitask. Be present and show you care.
Open and guide the conversation with broad, open-ended questions that prompt dialogue and cue to the employee that you want to learn more.
Drill down to the details by asking direct, specific questions that focus on the conversation, such as "Tell me more about … " or "How did you come to that conclusion?" or "How would this idea work?"
Summarize what you hear and ask questions to check your understanding. Throughout the conversation, paraphrase what you hear to show you are actively listening and considering the employee's point of view.
Encourage with positive feedback. Show appreciation for the team member's willingness to share thoughts, even if you don't necessarily agree with all that's being shared. Encourage others to express their points of view and be authentic with an observation like, "The fact that you and I may disagree on a topic is a good thing," and share why.
Listen for total meaning. Understand that in addition to what is being said, the real message may be nonverbal or emotional. Tone of voice, crossed arms, and poor eye contact can be clues that someone is feeling they aren't being heard or understood.
Authentic leaders also make a point to regularly dialogue with every person who reports to them, as well as the larger team through regular touchpoints, such as town halls or all-hands meetings. When working with teams that are regularly onsite, such as a healthcare, manufacturing, or retail center, leaders should consider regular 10-minute huddles, so people can see each other and feel connected.
3. Focus on honest, candid, and frequent communication
Too often, corporate communication can feel too practiced or surface-level. Employees can see through this kind of corporate speak and, as a result, they often tune out when they see it. Leaders who share personal reflections and stories about their own experiences can help build trust among their teams. People want to follow leaders they feel they know and understand.
Further, communication needs to follow a regular cadence, so employees know they have multiple opportunities to gain understanding, share feedback, and stay in the loop on challenges and opportunities.
Examples of Authentic Leadership
Two corporate leaders often mentioned as being clear examples of authenticity are Warren Buffet and Steve Jobs.
1. Warren Buffett
According to a piece in Inc. Magazine, Warren Buffett summarized his belief in authentic leadership by stating that the key to great leadership is "the willingness to confess mistakes and invite others to do the same."
2. Steve Jobs
Steve Jobs' commencement address to Stanford students is also pointed to as one of the most compelling examples of authentic leadership. Jobs was candid about his own shortcomings, including his failure to graduate from college. "Truth be told, this is the closest I've ever gotten to a college graduation," Jobs said in his opening to the address, inviting humor and signaling his candid approach. He proceeded to explain why he dropped out of college.
Before he died, Jobs was also often cited as an iconic example of an authentic leader because he was surprisingly candid about his personal feelings and failures with his own team. In our work with leaders, we've come across similar examples of the power of authenticity to build trust and engagement from teams.
3. Alisa McGowan
For example, the former CHRO of a medical device company we've worked with shared her own story of the journey to become a more authentic leader in my book, Heart First: Lasting Leader Lessons from A Year That Changed Everything.
In the foreword to the book, Alisa McGowan shared that she now looks at leadership in a new and completely different way. Today, she takes more time to listen to each employee's "story" because, as she puts it, "everyone has a story… a story that helps define who they are, what they hope to accomplish, and what truly matters to them when it comes to work and life." Similarly, she has taken more time to share her own story as a black woman leader in corporate America, and her passion for meaningful DEI initiatives. In the past, she tended to be much more private, separating her work and family life to such an extreme degree that it held her back from more meaningful working relationships.
The Bottom Line
The most compelling message from all the research on the power of authentic leadership is simple – being human, real, and values-driven in leadership matters a whole lot.
To be a truly exceptional leader, you need to take the time to reflect on what you care about and how you might build genuine relationships with your team members. Share with your team who you are and what drives you. Take the time and effort to build extraordinary relationships with the people on your team. This is the work that has the potential to be the driving force in your eventual success.
What one or two changes, if you made today, would have the greatest impact on your journey of authentic leadership?
—David Grossman
---
As a way to give back, we want to pay it forward by giving away copies of Heart First. If you're located in the U.S., we'll provide you, members of your team, and/or a leader you think will benefit with a copy (it's on us!). Click below to select your option and submit your book order today!