July 12, 2017
Know Your Authentic Self – Courageous Communicator Quest Challenge 1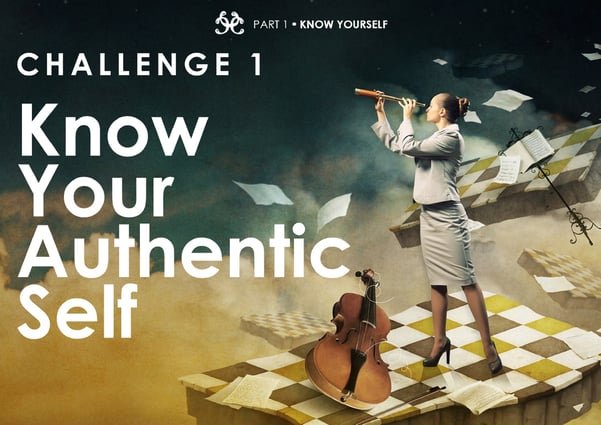 You've heard it before: The challenge starts within. On your path to become a truly courageous communicator, you must begin with self-reflection, self-development, and self-awareness.
The first four weeks of this Challenge will focus on looking within yourself, being honest about strengths and weaknesses, being authentic to whatever those are, and deciding to relate to others as someone who owns who you are.
Challenge 1: Know Your Authentic Self
The Myth
Those born leaders? They were born with their authentic voice, they know who they are and what they stand for and they are ok with that.
The Truth
Authenticity is a component of yourself that you can accentuate or work on to become better, whether it's on the job, in your relationships, or at home, to lead a more fulfilling life. In the end, the more you know yourself, the more effective you'll be.
The Courageous Communicator Challenge
So how do you go about really knowing yourself? Here are 4 actionable ideas—pick two of what's best for you to work on over the next week:
1. Pay attention to what you already know about yourself

Maybe we don't always know ourselves totally, but we can stop and analyze our experiences for a moment. Trust your gut feeling on it. As you have experiences, you can examine them and know if it feels good or bad; think, Is This Me or Not Me? Get to know yourself as well as you can today…and know that as time goes on, you will change and grow. Throughout the day today, think to yourself, Is This Me? Or Is This Not Me?
2. Make an inventory

Think about a half dozen times or experiences where you were told or you felt you weren't being authentic. Try to understand what got in the way and ask yourself, if you could have a do-over; what would you do differently? What can you learn from your answer to take forward to help you be more of who you are.
3. Get a better sense of your leadership style

There are a myriad of ways to get feedback: 360, Myers-Briggs, read StrengthsFinder 2.0, or one of many other fine books that include leadership diagnostics. Use the results as an opportunity to hold a mirror up to yourself to see what you can learn more about yourself and how you lead.
4. Make a list of people you admire who are authentic

Write down what they do that leaves you with such a positive feeling. Try one of those behaviors for a week and ask yourself, "Is This Me, or Not Me?"
I would love to hear about your progress.
Tell us what was revealed to you as you learned more about your leadership style.
—David Grossman
Next week's Challenge will be about Becoming Self-Aware and Walking the Talk.
If you are just joining us in our Courageous Communicator Quest Challenge, take a moment to start from the beginning here.
---
Written for leaders who wish to bring more of who they truly are to the workplace, this engaging and personal eBook walks through the process of getting there: