October 23, 2017
The Key to a Happy New Employee? Let Them Be Authentic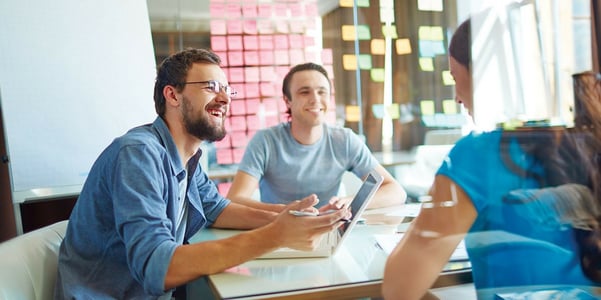 For many companies, the approach to onboarding new employees has been typical: introduce newcomers to the values and vision of the company with the hope that the team will quickly adopt the "organizational brand" from the very first days.
As it turns out, there may be a major flaw to that approach because it doesn't allow employees to be their authentic selves, applying their unique strengths and creative approaches to getting the work done.
Research Finds Competitive Advantage for Companies That Encourage Authenticity at Work
In a report in Administrative Science Quarterly, Cornell University researchers Daniel Cable, Francesca Gino and Bradley Staats found a distinct competitive advantage for companies that "strategically encourage authenticity at work" from the employees' initial weeks on the job.
The researchers found that organizations that encourage employees to share personal strengths and values during employee orientation programs had significantly higher retention and engagement than organizations that focused solely on a company's values and expectations during employee onboarding.
Researchers pointed to more effective orientation models, where newcomers are given time to reflect on such questions as: "What is unique about you that leads to your happiest times and best performance at work?" Employees might also be invited to introduce themselves to new colleagues by sharing their "best selves," including who they are, what they do best, and what matters to them. In this way, employees get a chance to frame the new job as a chance to be their best selves at work.
The authors outline some of the positive outcomes from such an approach, including:
Giving employees greater feelings of connection with colleagues

Encouraging employees to invest more personal energy into their work

Helping employees see the workplace as an environment where they are understood

Giving employees the motivation to reach their goals by exercising their personal strengths
The Power of Respectful Authenticity in Leadership
This Cornell study ties directly into my personal belief in the power of authenticity in leadership – a topic I've written and spoken about quite a bit over the past several months.
I'm convinced that the most effective leaders today are those with the quiet courage to say what needs to be said in a kind and respectful manner. That's how they can truly move their organizations forward. This concept applies to all employees. By allowing employees to be authentic – to show and demonstrate what they do best – companies achieve an important competitive advantage, as the Cornell researchers noted.
"By making authenticity a core value that is communicated to newcomers, organizations may not only inspire greater workforce contributions but may also enable positive deviance that keeps them fresh and agile," the Cornell researchers wrote. "For example, firms such as Southwest Air and Zappos.com hire new employees based in part on their willingness to be themselves at work and solve problems using their unique perspectives and strengths."
Respectful Authenticity goes beyond just a buzzword today. It can truly make a difference for organizations and employees, and the first moments on the job are the best opportunity for organizations to set that tone.
What does authenticity at work mean to you? Share your story of how being more authentic in your role helps you be a more effective leader or employee.
—David Grossman
---
Download this eBook and start your journey to authenticity today: