November 10, 2015
Want to Lead Authentically? Get to Know Yourself Even Better.
Early in my career, I was fortunate to work with some incredibly inspiring leaders who brought out the best in me.
I gravitated toward them because of how they made me feel. I trusted them because they were genuine, authentic, and because they demonstrated much more confidence in me than I had in myself. They stood for my potential, which was incredibly motivating for me as a 20-something professional, and only spurred me on to be even better.
Then it was my turn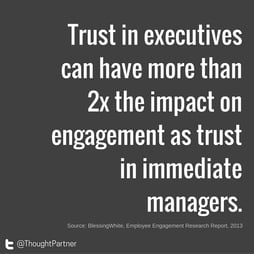 When it was my chance to lead, I was determined to lead in a similarly authentic way. I tried to take the best strategies from each of them. After all, imitation is the greatest form of flattery. Still, I made my share of mistakes as a new leader, and then I realized an important lesson: Leading authentically isn't about being like someone else. Instead, it's about knowing yourself and being who you are. Sure, you can "try on" strategies that work for others. Yet in the end, leading authentically is about finding what works best for you. And when you are genuine, you have "full power," which is what the Greek root of authentic – authentico – truly means.
As communication professionals, part of our role is helping the talented leaders we work with find their own authentic voice, and thus build trust with their teams.
As communicators it's our job to help our leaders
We need to show leaders how to avoid the trap I fell into as a younger leader, and one that I see many new leaders falling into today. Leaders need to know that they need don't need to be "like" someone else and/or lead in a certain way. There's no magic formula to authentic leadership or a certain "type" who's most effective.
Here are the three components I see as part of authentic leadership:
Know who you are. This is about having an objective understanding of your personality, desires, motives, and strengths/weaknesses
Act in ways that are consistent with who you are. This means behaving in ways that are in sync with your values instead of simply trying to please others or get something from others
Be genuine. Qualities here include sincerity, openness and truth, along with a willingness to allow others to see the real you. This is also about having an orientation toward others and demonstrating great respect and understanding of your audience.
All when mastered, helps you express your authentic self in any and all communications in the workplace.
What can you do today that will help you be more of your authentic self?
- David Grossman
This post was originally published by David Grossman at IABC.com