May 11, 2015
Worried That Your Employees Aren't Engaged? Here's What to Do.
There's no question that a growing number of business leaders are striving for a more engaged workforce today, particularly with mounting evidence that motivated workers produce better business results.
Yet, as a recent Gallup poll demonstrates, there's still a whole lot more work ahead to get more employees excited about their jobs.
The Gallup poll found that less than one-third (31.5%) of U.S. workers were engaged in their jobs in 2014. That leaves a majority of employees, 51%, still "not engaged" and 17.5% "actively disengaged." Gallup defines engaged employees as those who are involved in, enthusiastic about, and committed to their work and workplace.
Here's a glance at the trend shift over the past year: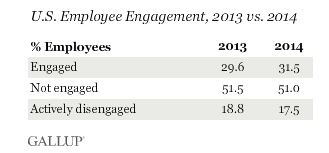 Millennial Employees Are the Least Engaged Generation
According to the poll, the most engaged workers are part of the "Traditionalist" generation, or older workers born before 1946.
These older workers are considered the most engaged because many of them are working by choice.
By contrast, the least engaged group is the Millennial generation. Researchers suggested this was because younger workers may not be getting the jobs they had hoped for after college, and often feel they're not in jobs that allow them to use their talents and strengths.
Clearly, this is discouraging news for leaders hoping to make transformative changes in their organizations these days. If they can't get employees on board, no one is going anywhere.
Employee Engagement Levels Are at an All-Time High
On the other hand, I see a lot of hope in this report. It demonstrates that once leaders commit to truly engaging their employees, they can do a lot to transform their entire organization. In other words, there is a secret sauce for moving your company forward – and it all boils down to paying more attention to the people behind your business.
There was also another bright spot in the poll. Engagement levels have inched up slightly, with the average level up nearly two percentage points from 2013, when 29.6% of workers reported being engaged. In fact, the 2014 figure is the highest engagement level since the numbers were first tracked in 2000. (Note: see updated employee engagement statistics here)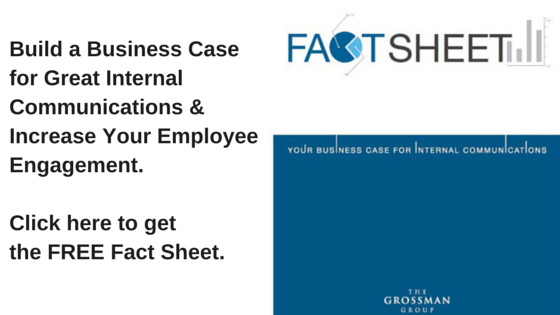 6 Strategies for Improving Employee Engagement
Gallup researchers also identified key factors that can help drive engagement, pointing to organizations that have reached engagement levels as high as 60% or more.
Through a separate study, Gallup studied 32 exemplary companies to discover the best strategies for improving employee engagement. The companies were all Gallup Great Workplace Award winners, and they were selected based on evidence of outstanding employee engagement that has clearly impacted the company's business outcomes.
Here are some of the key factors those companies have in common:
They have involved and curious leaders who want to improve
They have strong human resource leaders who influence, teach and hold executives accountable for developing their workforce
They ensure that employees know what is expected of them and give them what they need to do their jobs well
They never use an economic downturn as an excuse for poor performance
They lavish support on their managers so they feel trusted, accountable and capable
What Leaders Can Do to Build Employee Engagement
Gallup researcher Jim Harter, chief scientist of workplace management and well-being, also recently identified some of the most important things leaders can do to build engagement. One of the top things on the to-do list in that report? Become better communicators.
Harter found that engagement is highest among employees who report consistent communication with their managers. Employees craved regular contact with their boss, and not just about their daily work. They wanted bosses to take an interest in their personal lives as well.
The Gallup polls underscore the importance of making employee engagement and employee communication a priority for your organization. Of course, that's something I've long believed is a key strategy for moving any company further along the path to achieving its most important goals.
What's your next step for boosting engagement with your teams?
-David Grossman
---------------
Get the skinny on what it takes to create an organization with strong internal communications and engaged employees. Download the, Improve Your Workplace Diet eBook, by clicking the image below.