January 16, 2017
The Top 10 Principles for Communication in the 21st Century
In developing my thoughts on 21st century communications, I pulled together the best-of-the-best strategies that work from our clients who are leading in the global communications arena, and from my travels. The result are the Top Ten Principles for leaders, organizations, and communication professionals.
My intention in developing these principles is three-fold:
To continue to advance the dialogue on the critical topic of communications

To elevate the importance of communications and how it's inextricably linked to leadership

To provide perspective on what's possible (and possibly essential) to survive and thrive today
Here's an overview of my Top Ten. Click on the links in the headlines for further information on the topics below:
This is all about trust both for organizations and individuals. There's a critical need to sync up the culture and reputation of organizations. At the same time, credible leaders and organizations need to focus on actions and then follow with words.
What's most important to know is one's style and then to flex your style in various situations. Authentic leadership is about being more of who you are in the workplace (and knowing yourself – see below) with high visibility, high impact communications that inspire and motivate others to action.
Leaders inspire others by being able to paint a picture of the future they envision, and encourage others to help them get there. They codify their strategy with communication artifacts that keep teams and the organization focused.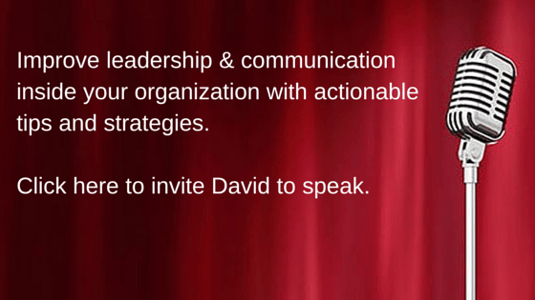 Everything that gets done today is through people. When set up for success, employees will continue to play a much larger role in brand and reputation-building by positively impacting the "moment of truth" and advocating on behalf of the organization to get its story out and be part of important conversations.
Leadership is something in which everyone participates, no matter whether one manages people or not. Everyone can and must lead no matter what one does.
Principle #6: There's a greater focus on self
Before you can lead others, you need to first know and understand yourself.
Change is constant and leaders increasingly need to be able to deal with ambiguity and adapt to change.
Principle #8: Employees everywhere have the same fundamental communication needs
This isn't changing. Meeting employee's communication needs and answering The Eight Key Questions™ All Employees Have give you the best chance of engaging them, especially during change.
Leaders need to talk less and listen more. Additionally, leaders need reliable data to understand the communication climate and specifically how they're doing so they can know what to stop, start, and continue, and how to better meet employees' communication needs.
Principle #10: The communication system is better honed to manage overload and inefficiencies
E-nough already! Re-balance the communication system by taking away what's not useful according to employees, setting expectations for effective communication, and empowering employees to improve their communication skills and etiquette.
What resonates with you? How do you see things? I'd value your thoughts and reaction.
—David Grossman
---
Employees are eager for a leader who can step up and guide them with strategy and integrity. Access messaging secrets on how to connect and communicate with your team with this eBook: